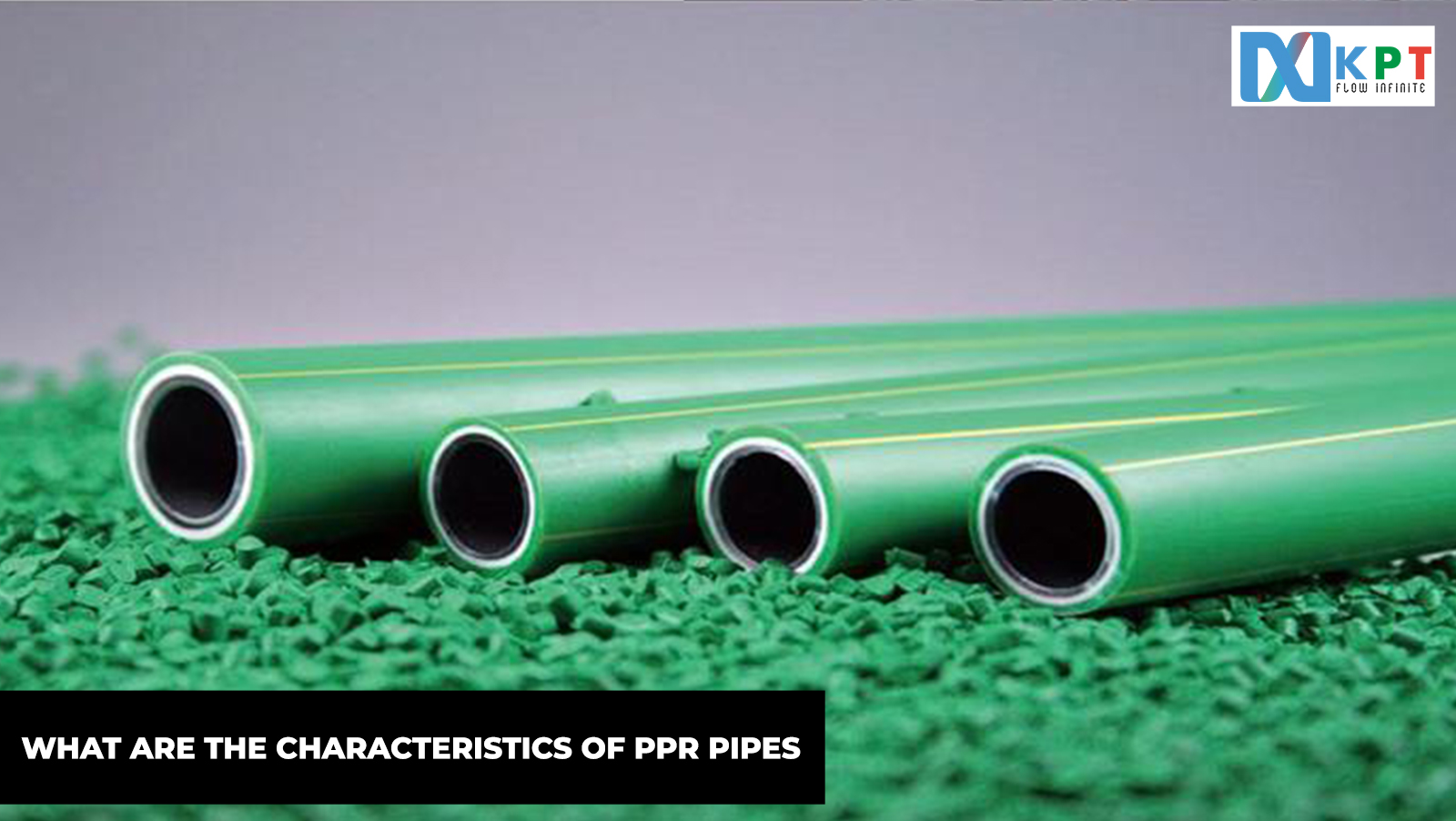 21 Mar

What are the characteristics of PPR Pipes?
Introduction
PPR pipes stand for polypropylene Random Copolymer pipes. PPR Pipes are uniquely designed of thermoplastic material which is high temperature and corrosion resistant. It is manufactured by the extrusion of various raw materials to produce an applicable PPR pipe. These thermoplastics pipes are widely used in the plumbing and supply systems of residential or commercial buildings. 
PPR Pipes have smooth and polished textures. It helps in distribution by providing less friction. It facilitates the flow of fluid. They are available in different colors. The colors in which PPR Pipes are generally available are green, white, red, and blue. It depends on the consumer to select suitable options as per their application purpose.
PPR Pipes are used in the plumbing and supply system of many administrations. It is used in the water supply system of urban cities. It operates the warm and cold water supply systems in residential and commercial buildings. Additionally, it is applicable in irrigation systems, and beverage supply systems. Furthermore, It is also used in many chemical and pharmaceutical industries.
It has various applications Because of its high-temperature resistivity, chemical resistivity, and corrosion resistivity. These make PPR Pipes the number choice in the global market.
They have various characteristics that make them the best PPR pipes. The characteristics of PPR Pipes combinedly impact the global demand for these pipes. The features of PPR Pipes make them the most preferable in the market.
In this blog, we understand the characteristics of PPR pipes. It helps to select the best alternative among so many varieties. This will help builders and architects to choose the best pipes.
What are the characteristics of PPR Pipes?
Heat resistant
PPR Pipes are specialized pipes designed to withstand extreme temperatures. It is made up of thermoplastic material that makes it heat resistant. It can withstand extreme temperatures up to 90 degrees Celsius.
The heat resistivity of PPR Pipes offers several benefits to consumers. It provides low thermal conductivity. It means the gain or loss of heat from the fluid will be negligible. It contributes to the efficiency of the distribution of the fluid. Furthermore, it also helps to save energy and money on high electricity bills.
Chemical resistant
PPR Pipes are the most recommendable pipes for the chemical and pharmaceutical industries. It has high chemical resistivity. It means PPR Pipes can resist the impact of chemicals like alkalies, acids, and harmful compounds in the distributions.
The chemical resistivity of the PPR Pipes makes them preferable in global industries. Additionally, The PPR Pipes do not release harmful chemicals in the supply or distribution of the fluids. It is used in residential water supply because of its safe and hygienic distribution of water.
Efficient manufacturing
PPR Pipes are manufactured under high extrusion of raw materials. It is made up of polypropylene random copolymer plastic which makes it highly resistant to temperature, heat, chemicals, and corrosion. Additionally, it consists of Basel and Hyosung material under DIN 8078 and DIN 16962.
It has a smooth and polished structure. It is specially designed for uniformity. It has a uniform dimension of the inner and outer surfaces. It is a cylindrical long thermoplastics pipe. Its smooth nature helps to facilitate the flow of the fluid efficiently. Thus, it is the most widely and globally used pipe type.
Corrosion resistant
These pipes are highly corrosion-resistant. It means they do not corrode or degrade over time. It has no impact on extreme weather changes and high salinity. This makes it suitable for coastal areas utilization.
The high corrosion resistivity protects it from rusting, unlike metal or steel pipes. It does not undergo any kind of oxidation reaction that may cause rusting of these pipes. It can withstand extreme weather changes as well.
Availability
PPR Pipes are mostly applicable for plumbing and wiring systems in homes and commercial buildings. As they are available in various sizes and colors, They have various applications. PPR Pipes have a wide range of size availability. It can be used in joint fitting to log supply lines. 
They offer a variety of colors. Generally, it includes green, red, blue, and white. They can be customized in their sizes and colors. Furthermore, they are easily available and cost-effective. It means it can reach the maximum population easily.
Easy installation
These pipes have high flexibility. They are made in a modified manner. It prevents breaking or damage. They are more lightweight than other metal pipes. They offer easy installation for the plumber and architects. They can be easily lifted and joined with simple welding.
They are highly portable in use. They are easy to deliver from manufacturer to consumer. They can be fixed efficiently to congested corners. They are also available in fitting pipes. It provides proper and constant flow in your supply.
Sustainability
PPR Pipes are the most sustainable pipes. They are very efficient and do not harm the environment in any aspect. They do not release harmful chemicals on heating.
They are highly recyclable and can be reused. They do not release toxic gasses into the environment on burning. They are manufactured by the extrusion of raw materials with no harm to the atmosphere. Thus, it is used in many industries to contribute to environmental control.
Durability
These pipes are well-known for their high durability and longevity. The special characteristics of the PPR Pipes are their long life span that can not be offered by any other ordinary pipe. They have approximately 50 to 70 years of lifespan.
All the characteristics combinedly contribute to the longevity of these pipes. It is very affordable and cost-effective. They do not corrode, degrade or damage easily over time. They provide safety and stability to your plumbing or supply system.
Conclusion.
In conclusion, PPR Pipes are the most recommended pipes by professionals. It is used in various industries for various purposes. Its demand is also increasing in the global industry. The characteristics of these pipes are the main reason for their rapid growth. There are several characteristics of PPR Pipes such as high-temperature resistivity, corrosion resistivity, chemical resistivity, and longevity. These characteristics benefit the consumer in different ways. Thus, it becomes the best pipe type in the piping industry.
Please follow and like us: