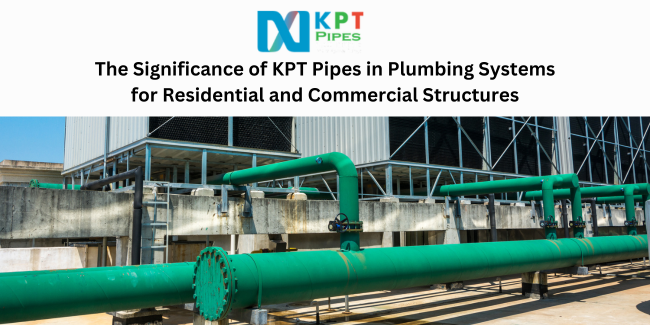 03 Oct

The Significance of KPT Pipes in Plumbing Systems for Residential and Commercial Structures

When it comes to plumbing systems in residential and commercial structures, the choice of materials is of paramount importance. The plumbing industry has seen numerous innovations over the years, and one such innovation that has gained significant attention is KPT pipes. In this blog post, we will explore the significance of KPT pipes in plumbing systems for both residential and commercial structures.
Durability and Longevity
One of the most significant advantages of KPT pipes is their durability. The layer material adds strength and stability to the pipe, making it resistant to corrosion and other forms of damage. This extended lifespan means that KPT pipes can be a wise investment for both residential and commercial structures. With proper installations, they can last for decades, reducing the need for frequent pipe replacements and associated costs.
Efficient Heat Conduction
KPT pipes are particularly well-suited for all types of climatic conditions. The layer within the pipe allows for excellent flow conductivity, ensuring that is evenly distributed throughout the way. This makes it an attractive choice for both residential and commercial spaces.
Resistance to Scale Buildup
Scale buildup can be a common problem in plumbing systems, especially in areas with hard water. KPT pipes have a smooth inner surface that resists scale buildup, which can help maintain water flow and prevent blockages. This resistance to scale buildup is particularly significant for commercial structures where water usage is higher and any plumbing issues can lead to significant disruptions.
Cost-Effective Installation
KPT pipes are relatively easy to install, which can lead to cost savings in terms of labor and installation time. Their lightweight nature and compatibility with various connection methods make them an attractive choice for both residential and commercial plumbing projects. Additionally, the durability of KPT pipes reduces the need for frequent repairs or replacements, further contributing to long-term cost savings.
Compatibility and Versatility
KPT pipes are compatible with a wide range of fittings and fixtures, making them a versatile choice for plumbing systems in both residential and commercial structures. Whether you need to install a simple residential plumbing system or a complex network for a commercial building, KPT pipes can meet the requirements efficiently.
Environmental Considerations
In today's world, environmental concerns play a significant role in material selection. KPT pipes are considered environmentally friendly as they are recyclable and can be repurposed at the end of their useful life. Additionally, their durability reduces the need for resources and energy required for frequent replacements.
In conclusion, KPT Pipes the Pipes Manufacturing Company in India has a significant role to play in plumbing systems for both residential and commercial structures. Their durability, efficiency, resistance to scale buildup, and cost-effective installation make them a valuable choice. Whether you are a homeowner or a business owner, KPT Pipes offers a reliable and long-lasting plumbing solution that can lead to cost savings and peace of mind. When selecting materials for your next plumbing project, consider the significance of KPT pipes and the benefits they bring to the table.
Please follow and like us: