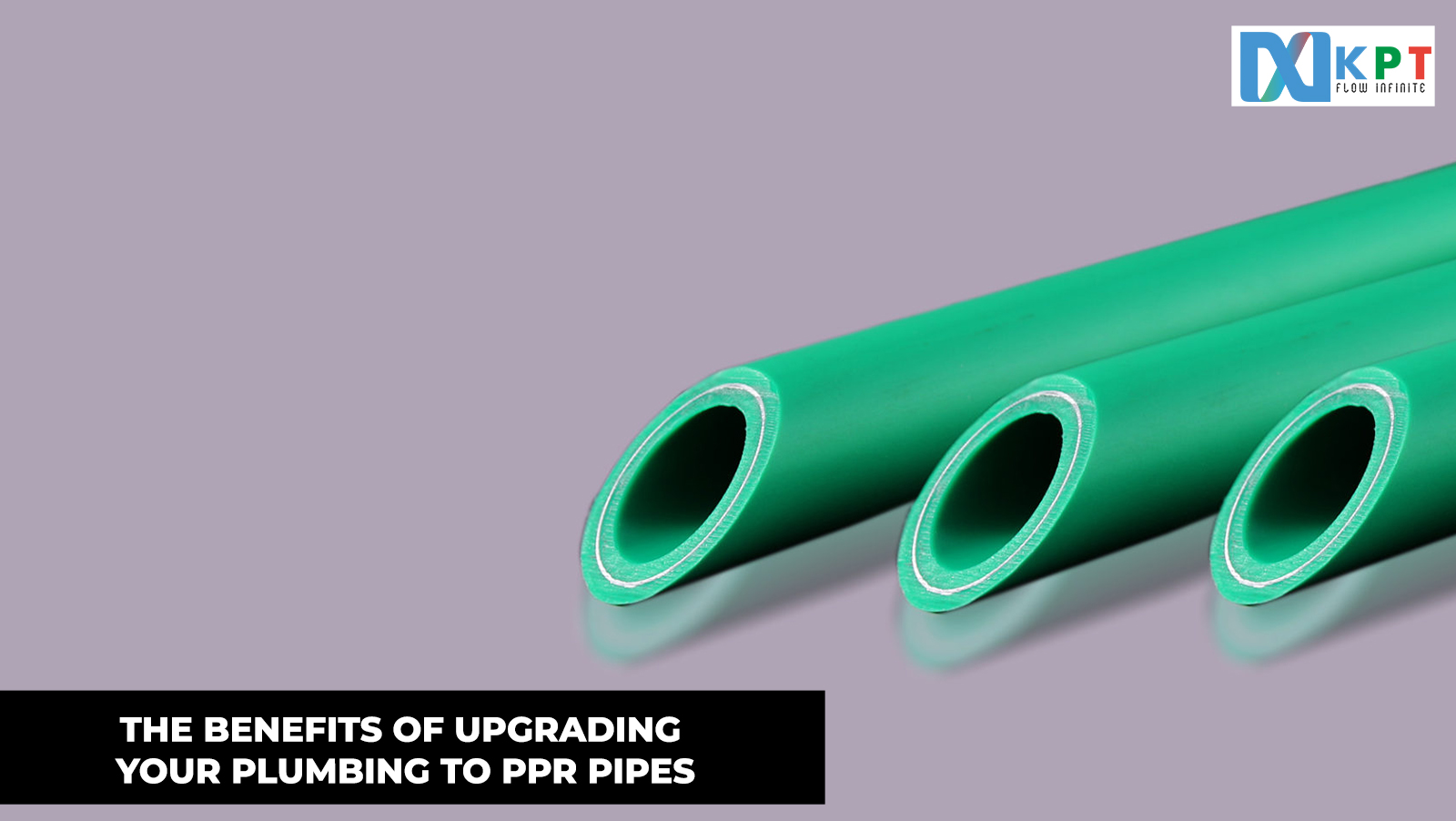 26 Apr

The Benefits of Upgrading Your Plumbing to PPR Pipes
Introduction
Are you considering upgrading your plumbing system but are confused about which pipes to choose? Don't worry we will guide you step by step to choose the right pipe system according to your needs.
PPR stands for polypropylene random copolymer, which is a plastic piping material that has revolutionized the plumbing industry due to its strength and affordability.
PPR pipes are the best option for your house or a company project. Since they are simple to install and maintain, and also because they provide a lot of additional advantages over other pipes.
In this blog post, we will explore the many benefits of using PPR pipes in your plumbing system.
Types for PPR Pipes
People widely use PPR pipes, also known as polypropylene random copolymer pipes, for plumbing and hot water applications.
PPR pipes come in a variety of sizes, from small to large diameters pipe sizes.
It is designed for compression-style fittings, which are composed of corrosion-free material, making the installation of the pipes quick and easy. We will discuss in brief about 3 types of PPR Pipes:
Greentherm Pipes
Polypropylene Random Copolymer (PPR-C) thermoplastic pipes, also known as Greentherm, have become a popular choice in modern plumbing.
They are robust enough to endure the steady pressure of plumbing systems and extremely flexible, sturdy, and lasting. Industrial operations, HVAC systems, geothermal systems, and solar thermal systems use PPR-C pipes.
These pipes are lightweight and flexible, making them suitable for restricted spaces or around obstructions.
Additionally, they are resistant to UV radiation, thermal expansion and contraction, and corrosion. Which makes them a recyclable and environmentally safe choice for plumbing systems.
Pneumatic and Compressed Air Plumbing
Pneumatic pipes are an essential part of industrial and air settings that transport compressed air or gases. The pipes are available in a range of diameters and forms to satisfy various requirements. They can be constructed of metal, plastic, or composite materials.
They offer unique features such as compression-style fittings, corrosion-free material, smooth inner surfaces, high chemical and temperature resistance, and a simple fusion welding technique.
KPT Pneumatic piping joints have fusion joints, which create unbreakable joints with a homogenous material structure. K.P.T. also provides clients with the necessary training and extra parts to handle any emergency.
ThermaPlus
Thermaplus pipes offer many benefits over traditional plumbing pipes due to their unique design and features. They have great thermal insulating qualities and are quite fire and heat-resistant.
Thermaplus pipes also have excellent resistance to corrosion and low thermal conductivity. They are also portable, strong, require little upkeep, and are simple to install.
Some More Advantages of PPR Pipes.
The inner surfaces of the PPR pipes are smooth, allowing for a better flow of liquid or gas through the pipe. The pipes can transport liquids like acids, alkalis, and organic solvents due to their strong chemical resistance.
Due to the excellent temperature resistance of the pipes, hot water up to 95°C can be utilised without any issues. This means that they are also suitable for hot water applications.
One of the great things about PPR pipes is that they keep their shape and integrity even in harsh environments. This makes them ideal for areas with frequent freeze-thaw cycles.
The pipes do not use external glue in the joints because they have non-contracting diameters. This makes installation much simpler than other types of piping.
Because the pipes have non-contracting diameters, they do not require the use of external adhesives in the joints. This technique is much faster than traditional methods and it is also extremely durable.
No more leaks!
Leaky pipes are not only a hassle but can cause costly damage to your home. That's why upgrading to KPT Pipes PPR pipes is an ideal choice for any plumbing system.
PPR pipes are made of polypropylene plastic and fused together using heat fusion techniques that make them virtually leak-proof.
These pipes are the epitome of resilience, withstanding the harshest of environments with ease. Thanks to the unparalleled quality of materials utilized in their creation.
We designed these pipes to withstand wear, corrosion, and extreme temperatures like no other, so you can say goodbye to the hassle and expense of constant repairs caused by leaks or damage.
Less chance of frozen pipes
Using KPT Pipes' PPR pipes in your plumbing system will greatly reduce the chances of frozen pipes. This is because PPR pipes are more thermally resistant, so they can withstand extreme temperatures without cracking or bursting.
With these high-quality pipes, you can rest assured that your water lines won't freeze in the winter months and cause costly and inconvenient damages.
Additionally, PPR pipes require less insulation, which means they can be installed in areas where other piping materials may not be suitable. This ensures maximum protection against freezing temperatures.
Increased water pressure
It is crucial for daily living to have access to reliable and constant water pressure when it comes to plumbing.
KPT Pipes PPR pipes increase water pressure, delivering much greater water pressure to your home compared to traditional copper or PVC pipe systems.
PPR pipes maintain water pressure even during times of high demand, ensuring that your home's showers and faucets always provide optimal performance.
Additionally, PPR pipes reduce friction losses while delivering water to multiple outlets in your home, making it easier to fill tubs, wash dishes, and clean clothes. Upgrade your plumbing today with KPT Pipes and enjoy improved water pressure!
Conclusion
Upgrading your plumbing system to PPR pipes is an investment that will pay off in the long run. KPT Pipes has built them to be dependable and strong, so you won't need to worry about repairs or replacements for a very long time.
Since there won't be any more leaks, there won't be a chance of pipes freezing, and there will be higher water pressure, you will feel secure in the state of your home's plumbing system.
So don't wait – make the switch to KPT Pipes today and enjoy a modern, efficient plumbing system!
Please follow and like us: