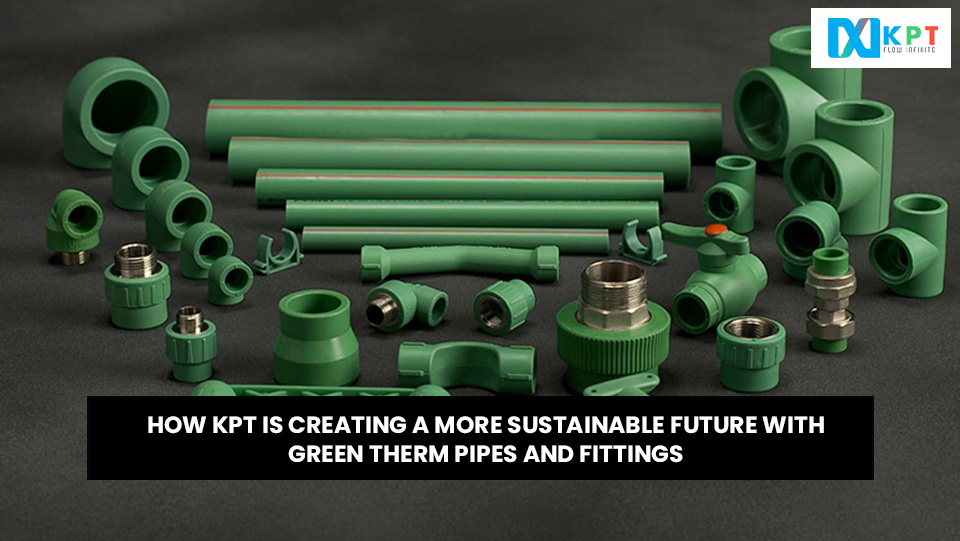 30 Dec

How KPT is Creating a More Sustainable Future with Greentherm Pipes and Fittings

With our ground-breaking Greentherm (PPR) pipes and fittings, KPT is paving the path for environmentally friendly building materials. This innovative product offers an eco-friendly solution for all of your plumbing demands. It aids in energy conservation in addition to lowering water usage and waste. KPT is pleased to provide a product that advances our goal of more sustainable practices around the globe. In this blog article, we'll look at how KPT's Greentherm pipes and fittings are setting the stage for a more sustainable future.
What are Greentherm Pipes and Fittings?
KPT has brought a new class of piping solutions called Greentherm pipes and fittings to the forefront in India with our largest range up to 400 MM. This product is intended to be more environmentally friendly and sustainable than conventional pipe solutions. PPR (polypropylene random copolymer) is used to manufacture Greentherm pipes because they have great insulating qualities and are specially designed to withstand heat and pressure. This kind of plumbing better protects against corrosion, water loss, and temperature changes. PPR pipes are perfect for home or commercial applications since they are lightweight and simple to install. For projects that need effective, dependable, and environmentally responsible pipe solutions, Greentherm is the best option because of its sustainability advantages and high performance.
What makes sustainability crucial?
The Past few years have seen a rise in the importance of sustainability as we work to lessen our carbon footprint and save the environment. We must make sure that the items and materials we use are durable and can be reused repeatedly without producing more trash. KPT's Greentherm pipes and fittings are useful in this situation.
Sustainability is a priority for KPT Piping System. They may be used again without needing to be replaced since they are manufactured with high quality PPR raw materials that are exceptionally strong and long-lasting. It therefore allows you to cut back on waste, save money on replacements, and have a smaller environmental effect.
Overall, sustainability is crucial to maintaining the health and prosperity of our planet for future generations. We can all contribute to building a more sustainable future by making investments in green products like KPT's Greentherm pipes and fittings.
How are KPT pipes and fittings more environmentally friendly?
Compared to traditional plumbing systems, KPT's Greentherm pipes and fittings are composed of significantly more ecologically friendly materials which are recyclable. They are more effective, affordable, and environmentally friendly because of their special blend of advanced engineering and materials.
The capacity of the pipes to maintain constant temperatures, which lowers energy expenditures, is the most evident advantage. In addition, Green Therm pipes have an extraordinarily extended lifespan compared to traditional pipes, resulting in fewer replacements and less waste. They become both a more affordable and sustainable solution as a result.
In addition, KPT offers excellent customer service and technical support, which means customers can always get the help they need to properly install their Greentherm pipes and fittings. It makes the process much easier and ensures that customers can get the most out of their sustainable plumbing system.
What advantages do Greentherm pipes and fittings offer?
When compared to traditional materials, Green Therm pipes and fittings have a number of advantages. They are significantly more insulating than traditional materials, which makes them suitable for both hot and cold climates.
The benefits of Green Therm pipes and fittings go far beyond their energy efficiency and environmental friendliness. For instance, they are extremely durable since they are non-toxic and won't corrode or rust with time. They are also much lighter than heavier materials, making installation more easy. Finally, a complete range from 16 mm to 400 mm are offered for Greentherm pipes and fittings, enabling their usage in a wide range of applications.
Overall, there are several benefits to using Greentherm pipes and fittings over traditional ones. They are lightweight, corrosion-resistant, and non-toxic. With all these benefits, it's understandable why KPT is the preferred brand in the PPR Piping industry.
Please follow and like us: