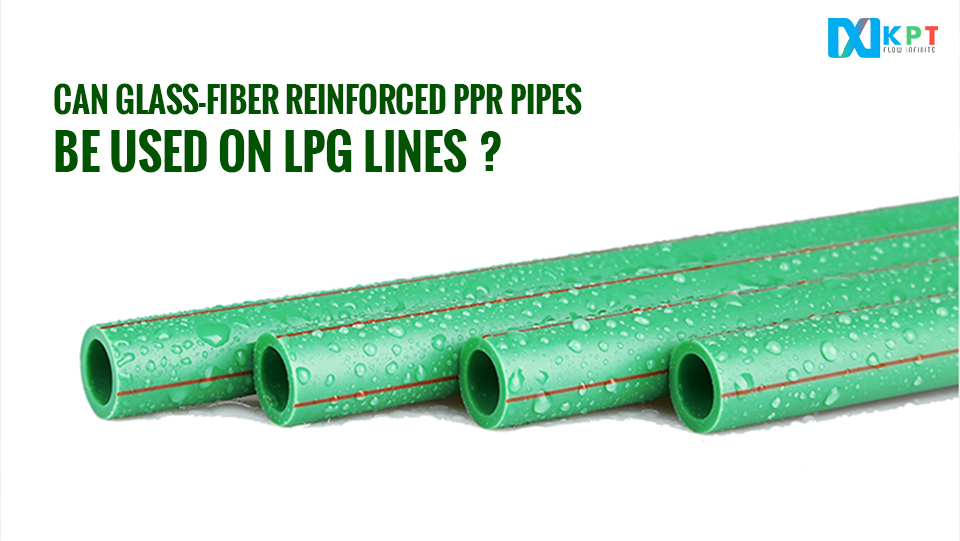 11 Oct

Can Glass-Fiber Reinforced PPR pipes be used on LPG lines?

Pipe fittings are used in the transport and handling of fluids, such as gas. They are also commonly used in pumps to move fluids between various containers.

Pipes made of reinforced glass fiber are lighter than metal pipes, which makes them easier to transport and install. They are also flexible and do not break when bent sharply. It makes them an ideal choice for pipelines with high pressure. And unlike metal pipes, they do not corrode easily and can withstand temperatures up to 212°F.

Moreover, in this article, we will learn whether to install PPR pipes for LPG or not. So, let's take a step ahead and know more about this. Meanwhile, if you are looking for the best pipe manufacturing company, you can reach out to us. We are among the top brands that provide high-quality PPR pipes.
PPR pipes for LPG
When installing an LPG service pipe, it is important to consider the type of pipe. While steel and copper are commonly used in above-ground pipework, they should not be used on underground LPG pipes. This is because metal-based pipework can corrode, leading to leakage and potential fire or explosion.
For critical gas line application, we at KPT have introduced Glass-Fiber Reinforced pipes under the brand name "Pneumato," which work smoothly even under severe pressure and are more resilient than other materials. Plastic pipelines don't break easily or require maintenance…
Features of KPT Pneumato PPR Pipes
To help you understand more about this topic, here we have shared the main features of Pneumato PPR pipes that will help you understand whether Pneumato PPR pipes are good for LPG piping systems…
Pneumato PPR allows for faster line speed.
Pneumato PPR pipes and fittings are the latest trends in the construction industry. PPR pipes offer many advantages over traditional pipes such as steel, cast iron, or cement pipes.
The inner wall of the pipe is very smooth, so there is little resistance to the flow of liquid or water. Plastic pipes also have a smaller thickness and provide greater liquid flow than cement pipes.
One of the reasons for the popularity of PPR pipes is that they are heat and cold-resistant. You can install these pipes in cold seasons. In addition to the PPR plumbing system, these pipes are heat resistant due to their low thermal conductivity. They can withstand the pressure of hot steam.
Pneumato PPR significantly reduces the line's operational costs.
Pneumato PPR has a high resistance to hard particle abrasion compared to traditional plastic piping systems. It is especially important in certain cases or industrial applications where the fluid being transported may contain abrasive particles.
Due to the lesser weight of PPR pipes, transportation, handling, and installation do not require high energy consumption or labor. At the same time, they are easy to cut, join, and process, making them more economically sustainable.
Pneumato PPR can be used on LPG lines.
Pneumato PPR pipe is a plastic pipe made of glass fiber reinforced in polypropylene random copolymer. The material is different from that used to make domestic water supplies and should not be used in drinking water applications as it is not Food-grade due to reinforced glass fiber. But Pneumato offers greater strength than normal PPR pipes and is therefore recommended in high-pressure air and gas applications.
Conclusion
Worldwide, PPR pipes have been steadily gaining market share in multiple sectors and applications. With the innovation of Glass-fiber reinforced PPR pipes, high-pressure gas and air applications don't have to rely on metal pipes which are more expensive and provide lesser service life.
It is important to note that older metallic pipework is prone to corrosion. This can result in an explosion or fire. As a result, LPG suppliers have implemented a priority replacement for these pipes. If you have this type of pipework, contact your supplier to learn more about the options available for you. To get more information about this topic, get in touch with us. Our experts will help you with the best possible solution for your queries.
Please follow and like us: