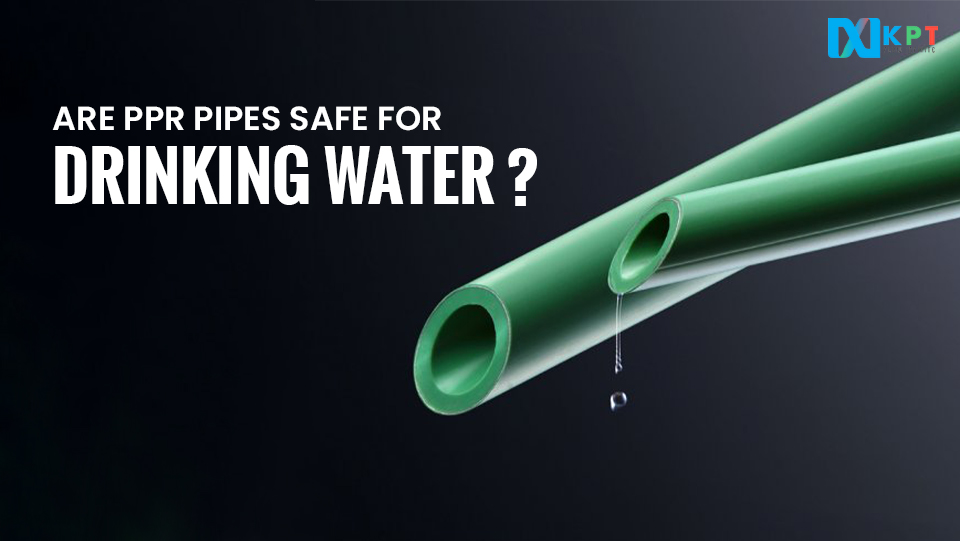 02 Oct

Are PPR Pipes Safe for Drinking Water?

We all want our family to be safe and protected… And when it comes to drinking water, installing the best plumbing system is one of those things that is always the number 1 priority. Like many, if your search engine is also loaded with the best plumbing system for drinking water, this blog will help you finalize the best piping solution for your needs.

When asked about the best piping system, our experts have shared that using PPR pipes would be the best choice for running water. They included that using top-quality pipes could fulfill all the plumbing requirements. If you are looking for top-quality pipes, let's delve in and have a look at PPR pipes closely and know why it is safer for drinking water. But let's first learn about the PPR piping system.
What are PPR Pipes?
PPR pipes are made of polypropylene random copolymer plastic, and it is generally straight and cylindrical in shape. These pipes are light in weight, make them simple to transport, and are normally seen in green and white. The PPR piping system accompanies fittings, valves, a combining machine, and different frills that are accessible for each size of the pipe. These pipes are non-harmful and safe to use. There are a lot more benefits of using these pipes. Let's move a bit ahead and know the perks of installing PPR pipes.
Advantages of Polypropylene Random Copolymer
Below are some of the points that will help you understand more about the PPR plumbing system. All the perks mentioned below are shared by our experts and will help you install the top-notch piping solution for your needs. Let's explore and learn about the benefits attached to PPR Pipes and fittings.
1. Smooth Internal Surface
As contrasted to other traditional types of pipes, the PPR pipes have an extremely smooth internal surface. In light of the smooth walls, the pipes possibly have little impact with regard to frictional resistance. It likewise diminishes the strain while distributing the liquid. Then again, the PPR pipes don't use solvents and are joined using heat fusion, unlike CPVC, which makes it a homogeneous and leak-proof system. That is the reason this is a more secure decision for drinking water.
2. Heat and Cold Resistance
PPR is intended to be a flexible piping system for potable water that can be utilized in various enterprises, like lodgings and hospitals. It is designed to give a heat resistance that can go upto 95-degree celsius. PPR pipes also withstand cold temperatures and installations in cold weather. It is the reason why PPR is the most preferred choice.
3. Durable
The third important aspect of these pipes is that they are sturdy materials. We all look for a protected plumbing system, and other than being protected, we believe it should be long-lasting. If your concern is related to the long-term plumbing system, PPR pipes are the best choice as it offers unmatched life of upto 50 years. They are perfect for hot and cold temperatures, and that too without getting breaks or breaking that will prompt water spills.
4. 100% Chemical-Free
Harmful chemical substances from solvents used in joining CPVC pipes are dangerous to our wellbeing, while fusion welded PPR pipes are 100% chemical free and 100% Food-Grade plastic. Therefore, it won't convey harmful substances that will influence the soundness of drinking water from it. Furthermore, it is recyclable and safe for the environment.
Conclusion
We hope that this article helps you in deciding the best piping system for your needs. Generally, PPR pipes are 100% safe and hold a greater number of benefits than other plumbing systems. All the things mentioned in the blog make PPR best suited for drinking water.
Furthermore, if you have any queries regarding PPR pipes, you can reach out to us. We have a separate team that helps folks clear all their doubts and have a perfect solution for their queries. If you are looking for the best PPR pipes and fittings manufacturer, contacting us would be the best decision. Also, check out our blog section to read more about pipes and fittings. You can even explore our website to learn about our products and services. It will help you know more about us.
Please follow and like us: