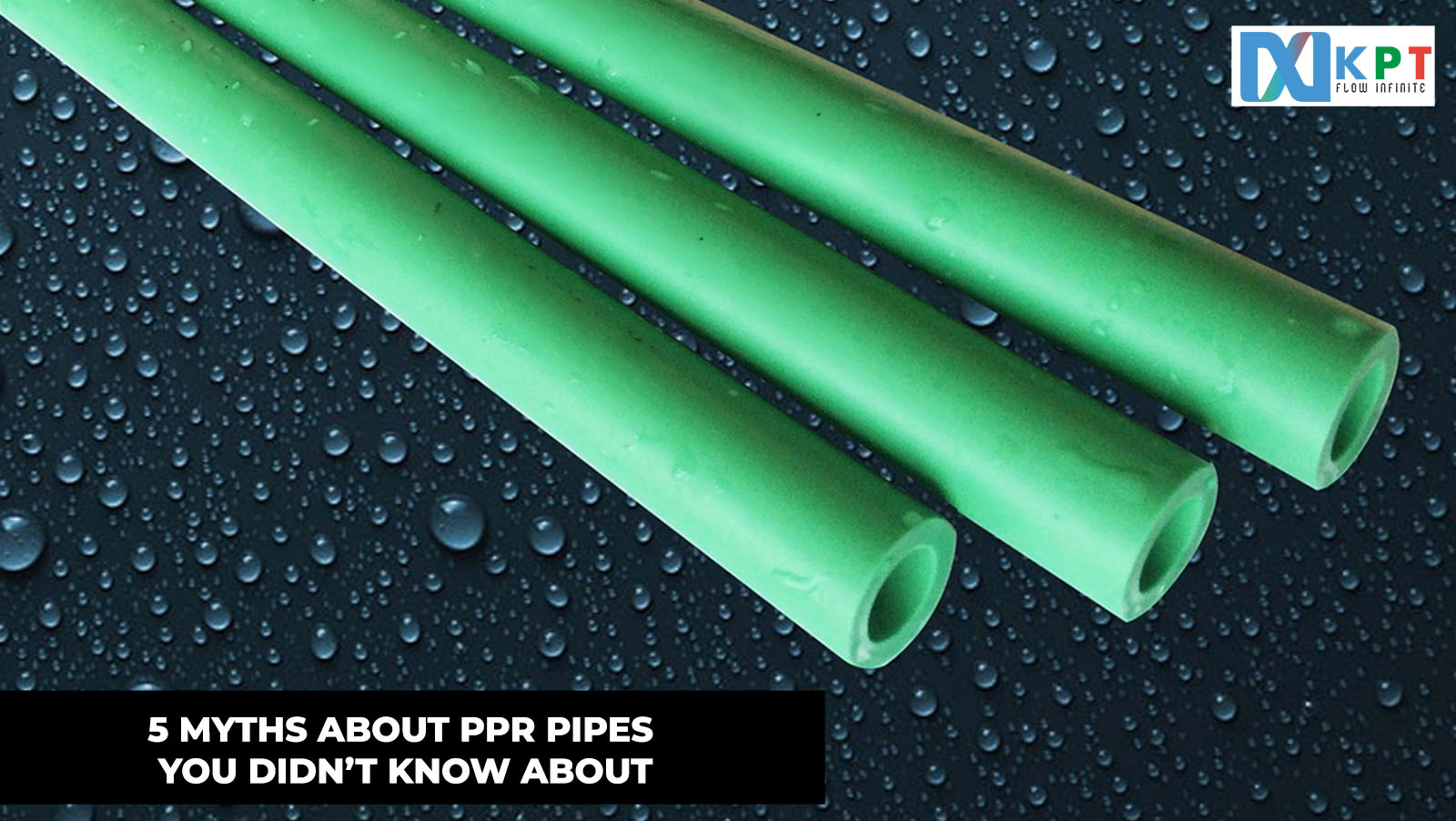 15 May

5 Myths About PPR Pipes You Didn't Know About

Connectivity and networking are some of the most important parts of any business. Similar is the case with PPR Pipes. Our taps' and other pipelines' efficiency and regularity often depend on these factors. But did you know that there are several myths related to these pipelines that you probably didn't know about?

Our lifestyle often depends on some basic things we do not take seriously. For instance, can you imagine your day if you had irregular or no water pipelines connected to your home for a day? No, right? This article will discuss what a PPR Pipe is, how versatile it is, and what are some of the most popular myths associated with them. Read along!

Renowned as Polypropylene Random copolymer Piping, it is often popular for use in plumbing and heating systems. But, you may think, how have these pipes gained popularity over traditional metallic plumbing instruments? Well, there are several reasons why these plastic piping systems are in high demand.

From being versatile enough to be used everywhere to its lightweight qualities, there is more than one major reason why PPR Pipes became famous. Some of its remarkable features include:
What is a PPR Pipe?
Easy installation: No matter the area or its dimensions, PPR Pipes can be installed anywhere without major difficulties.
Rust resistance: Rust is the reaction of the metal with oxygen and other climatic factors. It causes low efficiency of the pipes and degrades their quality. However, with PPR Pipes, there is no such worry as they are made of plastic.
Leak-Proof System: Once the pipeline system has undergone pressure testing without any leaks, the system is secured for 50 years !!
Endurance: Durability is another major reason PPR Pipes have gained popularity. Since they do not rust or depreciate due to climatic conditions, their endurance is comparatively much higher than traditional metallic piping.
Now that we know about the salient features of PPR Pipes, we should also know that several things could be improved about using PPR Piping systems. Unfortunately, people still opt for metallic pipes due to myths and other factual mistakes. Let's cover them all one by one:
Myths related to PPR Pipes
PPR Pipes are unsuitable for hot water: It is one of the biggest myths ever. People often disregard PPR Pipes because they need strength to handle strong water.
However, talking about PPR Pipes would be helpful here. Research says these pipes are designed to endure high temperatures and can handle hot water comparatively well by 95 degrees Celsius. The ones used in heating systems can handle hot water up to 110 degrees Celsius. However, the quality of material used by manufacturers must be considered to avoid pipeline leakage, spillage, or breakage. KPT Pipes uses the Best PPR raw material from Hyosung corporation, so you can be assured with us.
These are not meant for outdoor usage: Consumers are often reluctant to use plastic pipes with other metallic plumping accessories like copper or PVC. However, this isn't true.
PPR Pipes are incompatible with other materials: This is one of the biggest misconceptions that has been taken lightly, but isn't true. PPR Pipes are often compatible with metallic materials. PPR Pipes are UV Resistant and are capable of withstanding extreme temperatures. This also makes them compatible, flexible, and versatile for usage. They can also be connected to special metallic fittings, thus making them customizable for outdoor or indoor usage.
These pipes can't be recycled: One of the biggest misconceptions about PPR Pipes is that they cannot be recycled. However, this is not true. These pipes can be recycled and have been going on in many countries. They are used again to make new materials for outdoor applications, furniture, toys, applications, and many more.
The PPR Pipes often go out of budget: More often than not, PPR Pipes are said to be out of budget because they come with modern, customizable features for all. However, this isn't true.
PPR Pipelines are said to be cost-effective and modernized solutions for today's day-to-day requirements. They help you save money, time, and effort long-term. When compared to prices, these are less expensive than metals like Copper, CPVC, etc.
Conclusion
Pipelines often speak for connectivity and regularity in flow. They ensure easy flow of water or heat with diligence and optimum effectiveness. One such example of such excellence is KPT Pipes. Its plastic pipes speak for effectiveness and efficiency at the same time. Made to offer diligence and uninterrupted flow of fluids, KPT Pipes and fittings make your home, office, or any other place better in their way.
Please follow and like us: